Seamless Beauty
AAmerican/ABC Seamless of Missoula, Butte and Kalispell are a locally owned family business.  Damian Khoury purchased the company from his father, David Khoury, in late 2003 after working for the company for 8 years prior.  Dave Khoury's 35 years of experience in the construction business has been instilled in every aspect of the company to make AAmerican Seamless, the largest, most trusted siding window, roofing and gutter Company in the state.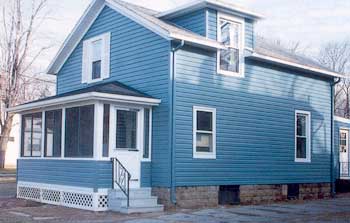 If you are looking for a maintenance free home, or you are just looking to save a lot of money on your energy bill, AAmerican can help.  With the widest variety of products and insulations, AAmerican can give you exactly what YOU want, the best products and services for the best price.  We are the ONLY Company that can offer you the best siding, gutters and trim available and ALL of them under the SAME warranty.   Don't be fooled by people claiming to be "just like ABC" because they are not.  They can't offer the same warranties or guarantees as we can. We are backed by the world's largest seamless siding franchise to give you the security you deserve when spending thousands of your hard earned dollars on your home.  Give us a chance to show you the real differences that make ABC/AAmerican the Safest, most reliable choice for your home improvement needs.
To get your free estimate from AAmerican Seamless and enter to win $10,000 towards your new siding project, simply fill in the contact form by clicking here.  Or, email us at office@aamericansiding.com or call us at 800/447-6294.